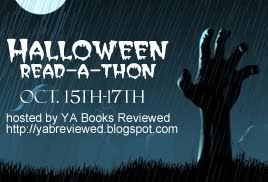 Lesley over at Young Adult Books Reviewed
is hosting a Halloween Read-A-Thon and I want YOU to sign up!
Here's the important info...
Read-A-Thon runs from October 15th-17th. And, in Lesley's own words....
What does this readathon entail you ask? Good question!
For this readathon: read Halloween themed stuff. Not necessarily with the day of Halloween, or even the month. None of that (unless you want to). What I am thinking is examples like this: vampires, ghosts, witches, werewolves, shifters, immortals, urban legends, zombies, anything horror or paranormal related.

For those of you who have never participated in a readthon, what exactly is it?
For this readathon it is just the weekend. So for 3 days, read as much as you can for however long you can! You can set a goal if you'd like as well. I'm going to set a goal of 4 books for the weekend. So I'm going to read as much as I can and hopefully hit my goal. Read at your pace, whatever you want to do!

Do I have to have a blog to participate?
No way! This is just to read and have fun. If you have a twitter, a google connect, anything will do.

Sign up so you can be in on the fun (and GIVEAWAYS!) Just click the pic to get to the sign-up page!