Hi everybody, hope you all had a wonderful weekend! I am officially on vacation until Sunday (yay!!) and just got back from Vegas where I got to go to my grandson's Baptism and birthday party. Here's a pic of my little guy in his suit. I had SO much fun with him...he can operate a cell phone better than a lot of adults I know (he knows exactly how to get to the Spongebob apps) and he sings along with the songs on the radio. He is a big Bruno Mars fan, it is the cutest thing in the world to hear him singing "Billionaire" (he skips the word "frickin" and just sings "sooo bad.) I miss him so much already!!!!!
And here's a pic of me with my beautiful girls...we went out dancing til 3 AM at the Aliante where my son-in-law and his band Vol.1 were celebrating their one year anniversary of playing there. Such a busy weekend and so many things to celebrate!!!
Anyway, on to bookish news....I think I am all finished choosing which challenges I want to take part in this year. Two are hosted by Book City Chick. I would have signed up for the Horror and Urban Fantasy one even if I wasn't a fan just so I could put that gorgeous button on my blog! And I had already decided I wanted to read 100 books this year so might as well make it official with the challenge =)
I'm also signed up for The Story Siren's 2011 Debut Author Challenge. I signed up for this one last year and didn't quite finish it, but I most definitely plan to this year.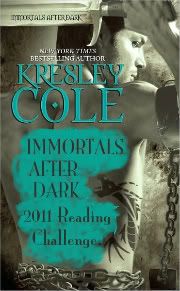 Ok....I think that covers it!!! What reading challenges have you all signed up for?? Any other ones I should include on my list??
**I will announce the winner of the Reading Resolutions giveaway tomorrow!**