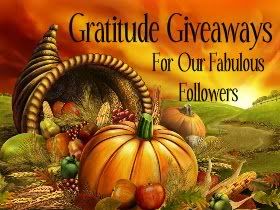 I'm so excited to be a part of the Gratitude Giveaway...it's a way of saying thanks to all my lovely blog followers and all the awesome people I have had a chance to talk to since starting Vampires and Tofu. This event is hosted by Kathy at I Am A Reader Not A Writer (click the pic to visit) and will run from November 17 thru November 28. There are more than 175 blogs participating, you can find a list at the bottom of this post...visit and enter!! There are tons of awesome giveaways.
And now for my giveaway....
Winner gets his or her choice of these boxed sets....
1. The House of Night Series by P.C. Cast and Kristin Cast (books 1-4)
2. The Immortals Series by Alyson Noel (books 1-3)
3. The Uglies Series by Scott Westerfeld (books 1-4)
To enter, simply be a follower of Vampires and Tofu and leave a comment with your email address. That's it!! Giveaway is open to anyone 13 and over. Shipping is to the US and Canada only BUT if you're international, don't despair...you'll get $25 worth of the books of your choice as long as Book Depository ships to you!

Opportunities for extra entries...
+1 if you were a follower before this giveaway
+1 for tweeting this giveaway
+1 if you post it anywhere else (your blog, facebook, etc.)

Lemme know your extra entries in the comments, good luck, and thanks for reading Vampires and Tofu!!