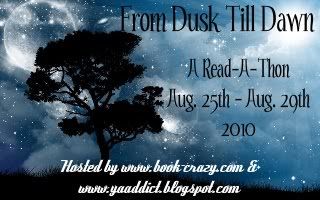 I'm very excited to be taking part in my first Read-A-Thon and it's PERFECTLY suited for me since the reading hours are 8PM to 8AM, which is when I do most of my reading anyway =) It's running from August 25th-29th and it would be great if you signed up too! Just click the pic and it will take you to the sign up page. There will be lots of fun challenges (I'm hosting one!) and great giveaways!
I'm hoping to read:
1. Mockingjay by Suzanne Collins
2. Demon Chick by Marilyn Kaye
3. Clockwork Angel by Cassandra Clare
4. Epitaph Road by David Patneaude
5. Linger by Maggie Stiefvater
Lemme know if you sign up!