How cool!! I got my first blog award from
Vatche

at The Student Writer's Mind! Thank you so much =)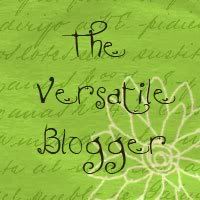 Apparently there are very serious consequences involved if I don't follow the rules or I will be attacked by several ninjas, pirates, robots, zombies or a ninja-pirate-robot that happened to turn into a zombie.And while I wouldn't mind pirates if that included Captain Jack Sparrow, I would prefer to avoid the rest of that motley crew so here goes....
The Rules:
1) Thank and link back to the person (or people, in my case) that gave you the award.
2) Share seven things about myself.
3) Pass the award to fifteen bloggers, who I have recently discovered and who I think are fantastic for whatever reason. (In no particular order...)
4) Lastly, contact the bloggers that I've picked for the award.

So without further adieu...here we go....

1. I didn't know how to hyperlink before getting this award so thanks Vatche for forcing me to learn a very necessary blogging skill!
2. I have been a vegetarian for over 4 years and contrary to popular belief vegetarians (at least THIS vegetarian) don't eat any more veggies than meat-a-vores =) Since there are so many great meat substitute products out now, I eat pretty much the same stuff as everybody else...burgers, tacos, burritos, spaghetti...
3. I have 2 daughters...16 and 23 and they are AWESOME. I would think they're amazing people even if they weren't my kiddos. I also have a one and a half year old grandson who, I must say, is the cutest baby boy EVER =) Here he is with Daddy...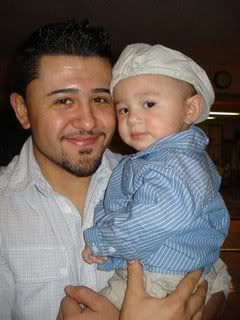 And here I am with my girls and the baby at Disneyland...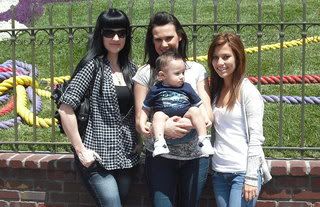 4. My boyfriend of a year and a half is 26 which I guess TECHNICALLY makes me a cougar (even though I cringe at that label!) But lemme be the first to tell you it's not all Samantha-Sex-in-the-City glamorous...there have been some truly hilarious moments that I'm thinking just might be the inspiration for a book...
5. I eat jalapenos with
almost
everything.
6. When I was growing up I wanted to be a Solid Gold dancer. Needless to say, this did not work out.
7. I collect action figures...like Freddy, Pinhead, and Chatterer and have a whole wall in my living room dedicated to them. Which has been known to creep people out the first time they come over =)
And now to pass on the award....
First off, some of my fave book related blogs
1.
Wastepaper Prose
2.
Tales of a Teenage Book Lover
3.
A Good Addiction
4.
Daisy Chain Book Reviews
5.
Flipping Pages for all Ages
6.
Spohistikatied Reviews.
7.
All Things Urban Fantasy
8.
Valkyrian Sanctum
9.
Not-Really-Southern Vamp Chick
10.
the uncommon nonsense
And some other blogs I enjoy...
11.
Cafe Fashionista
12.
gala darling
13.
yes and yes
14.
Chicken Soup for the Dorky Soul
15.
Books, Beauty and Bane
Thank you everyone for everything. Now, share the award and follow the rules or pirates, ninjas, robots, and zombies will attack!